A family owned, old-fashioned meat market providing wholesome meats & outstanding quality since 1971.
Blau's Saukville Meats has been a family owned and operated business since 1971. Mark's father, Harley Blau, along with friend Bob Connor, started processing deer out of their garage in Milwaukee. In 1971, they purchased what was once an old Cheese mart in Saukville to bring their meat cutting and sausage making skills and experience to the retail world. Saukville Meats was born.
Mark grew up in the business, learning to make sausage and the customer service skills crucial to running a successful meat market. Harley bought out Bob in the mid-1980's and continued to run the business until 1997, when Mark took over the business and it became Blau's Saukville Meats as it's known today, where he works alongside his sons Ryan and Stephan.
QUALITY & CONSISTENCY: Our Promise to You
From wild game processing—to the retail portion of the business—we always strive for consistent quality on a day to day basis. We bring incredible products and customer service of the highest quality to the world of meat.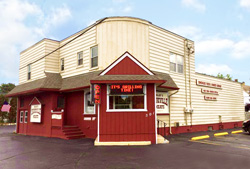 What Sets Saukville Meats Apart?
As national grocery chains have abandoned the concept of fresh meats in favor of pre-cut, shipped-in fare, we've stayed the course, and have proudly maintained our reputation as the premier, old-fashioned butcher shop in southeastern Wisconsin.
What People Are Saying About Us
"Blau's Saukville Meats is a carnivore's delight. It is a full-service butcher shop where you can buy ready-to-grill Wisconsin style brats (bratwurst), freshly made from beef, pork, pork and mustard, buffalo and – perhaps the most delicious of them all – chicken, which drips with juices when severed by a knife. The meat cases are also stocked with summer sausage, smoked meats, and a wide variety of hand-cut beefsteaks, plus hamburger and stewing meat of all kinds." — Roadfood.com
"Best place to buy steaks in the area. Each one is hand-cut to order. They also have an amazing variety of home-made sausage, cured bacon and ham and other foods. Highly recommended!" — John M., WI
"No trip to Wisconsin is complete without stocking up at Saukville Meats. Love the garlic summer sausage, and it travels well frozen. Meat sticks are the perfect snack & even better in a Bloody Mary. I've tried a lot of meat sticks and none compare. These are not greasy, great texture and just the right amount of spice. The selection of chicken sausages, meats and cheeses is great!" — Michelle P., CA
"I've bought various meats from Blau's for many years and it's always excellent. They're very helpful in cutting the meat exactly as you want it it and even broke up packages when I didn't need the whole amount. I highly recommend them for all your meat!" — George E., WI
"Awesome brats – taste great and a large variety to choose from. My game day favorite!" —  Gary E., WI